The Original Spicy Toothpaste
A new toothpaste that uses the power of heat and menthol to kill bacteria, leaving you with a healthier, fresher mouth.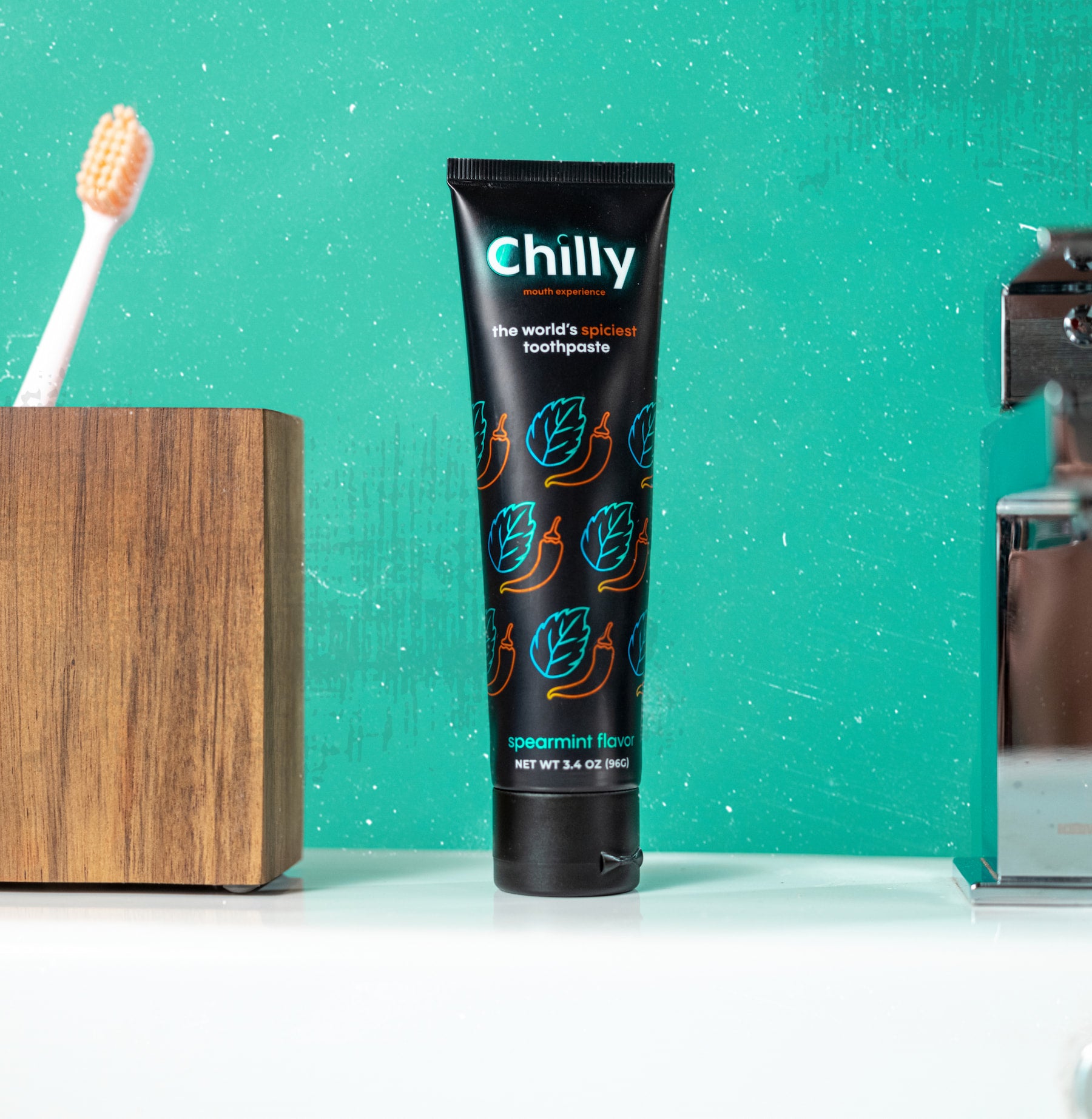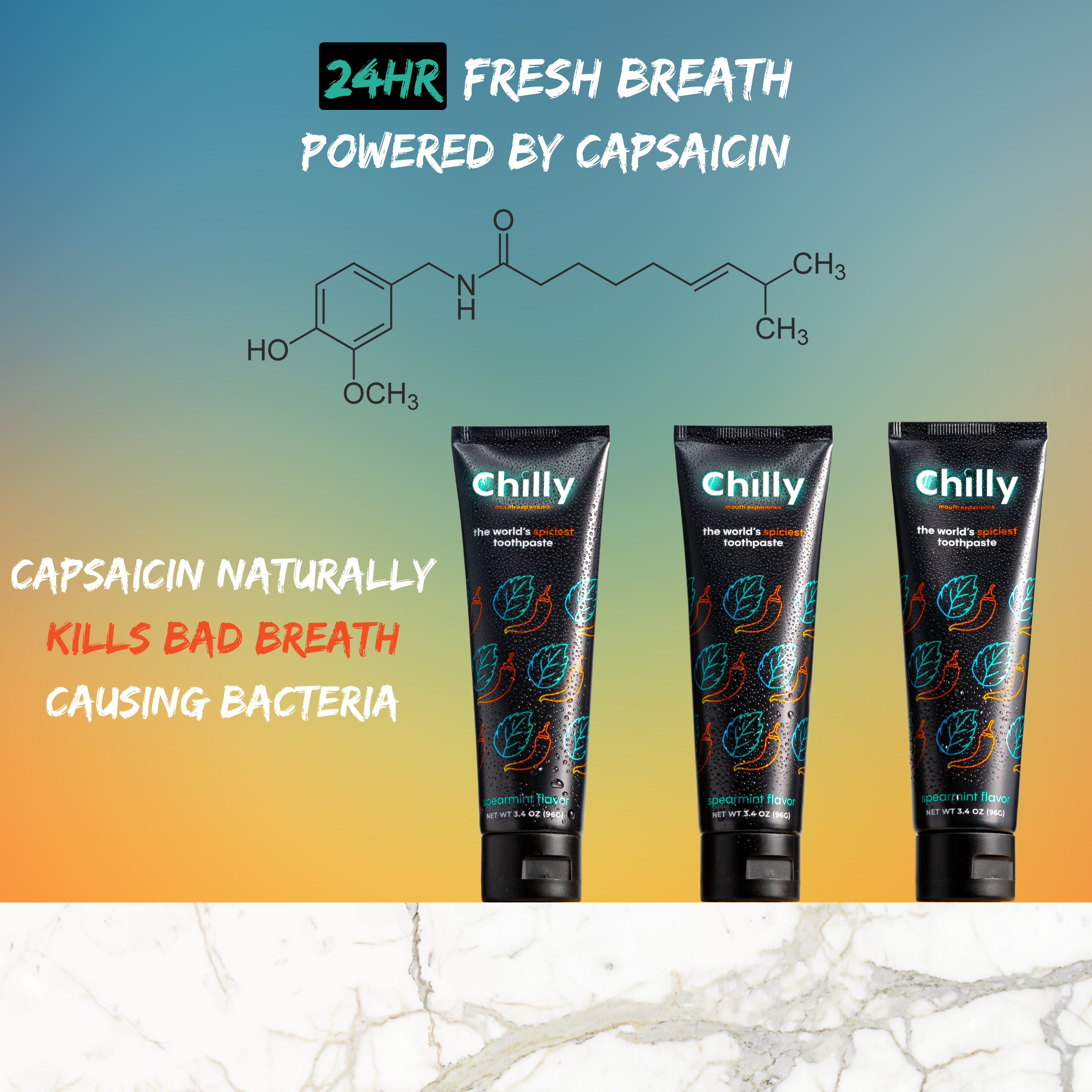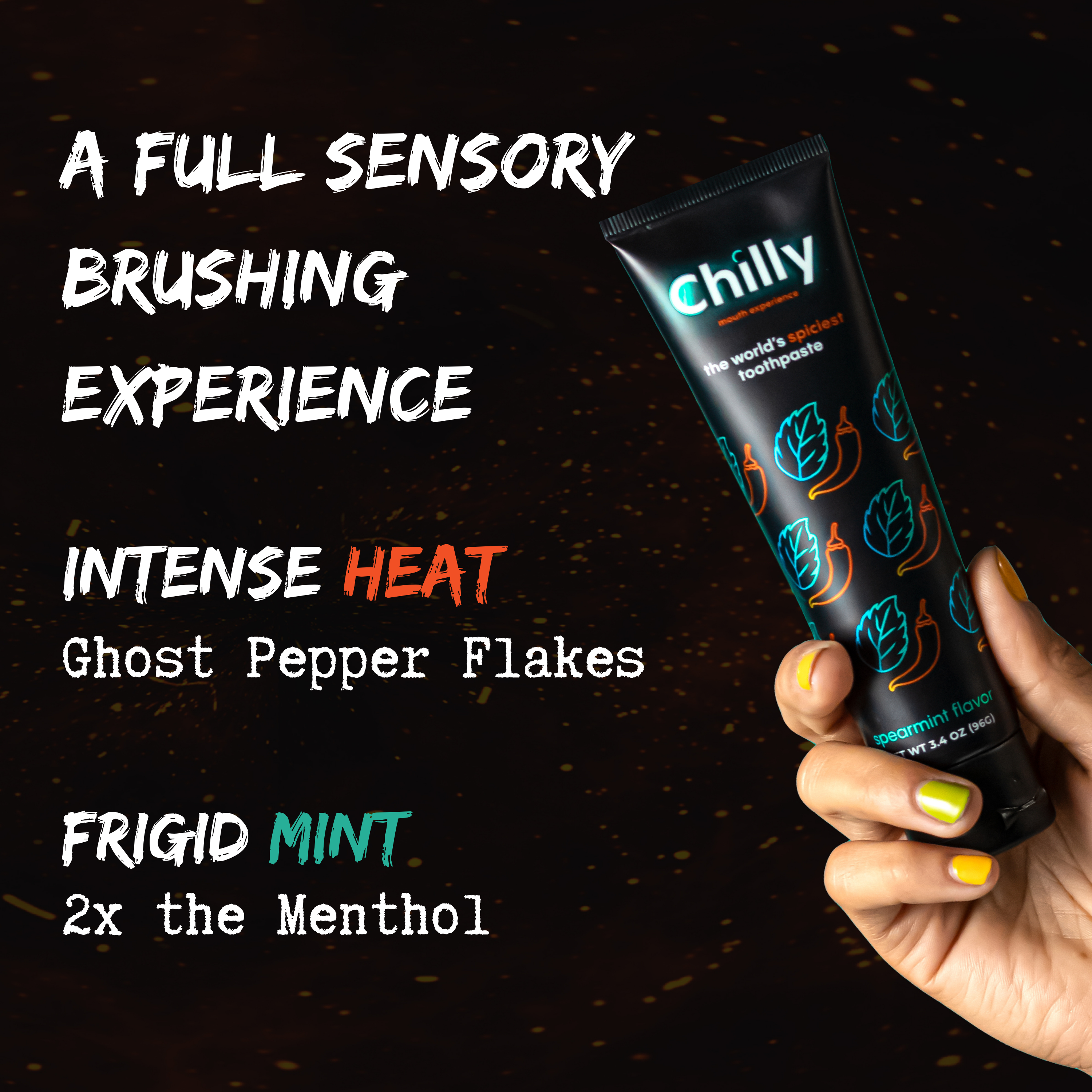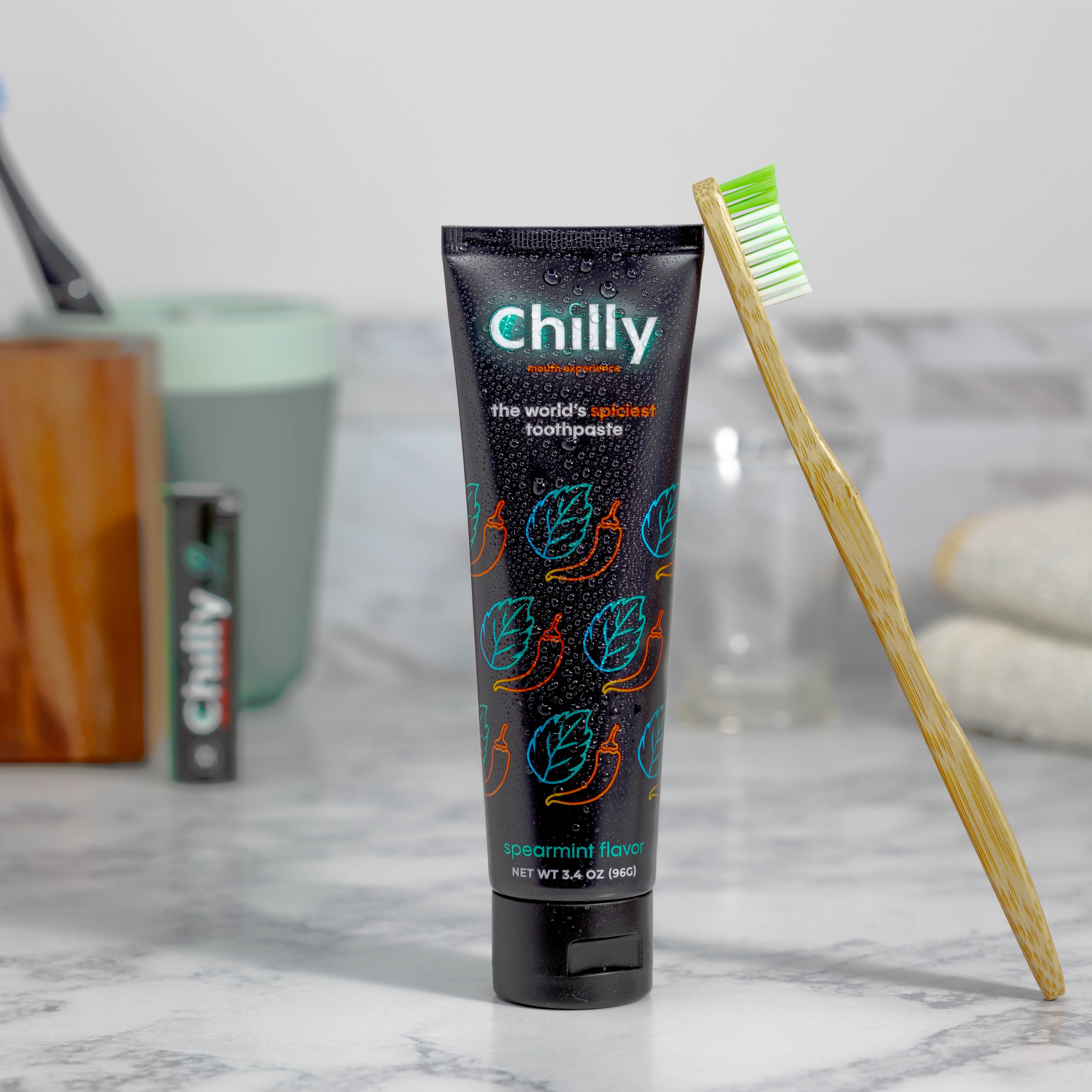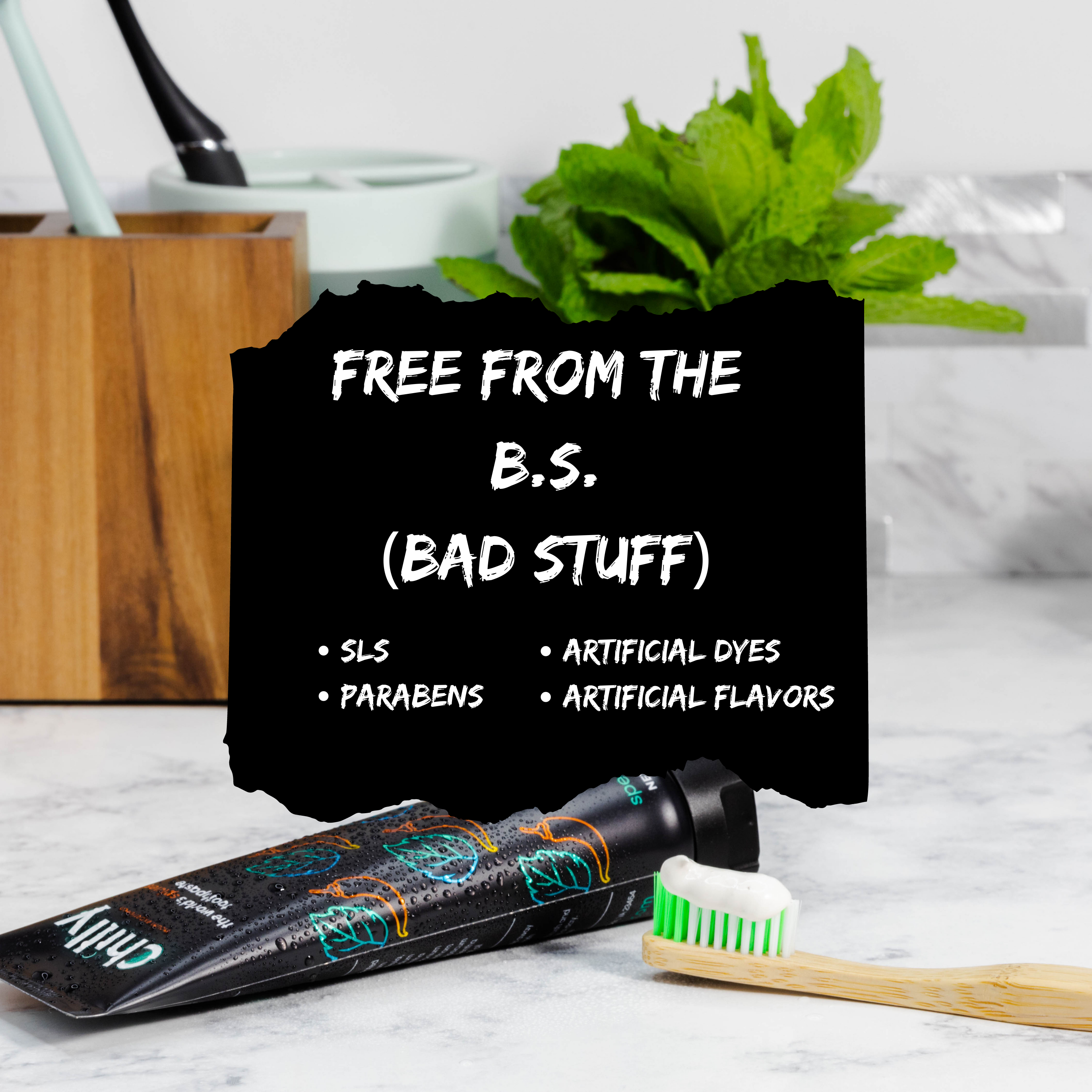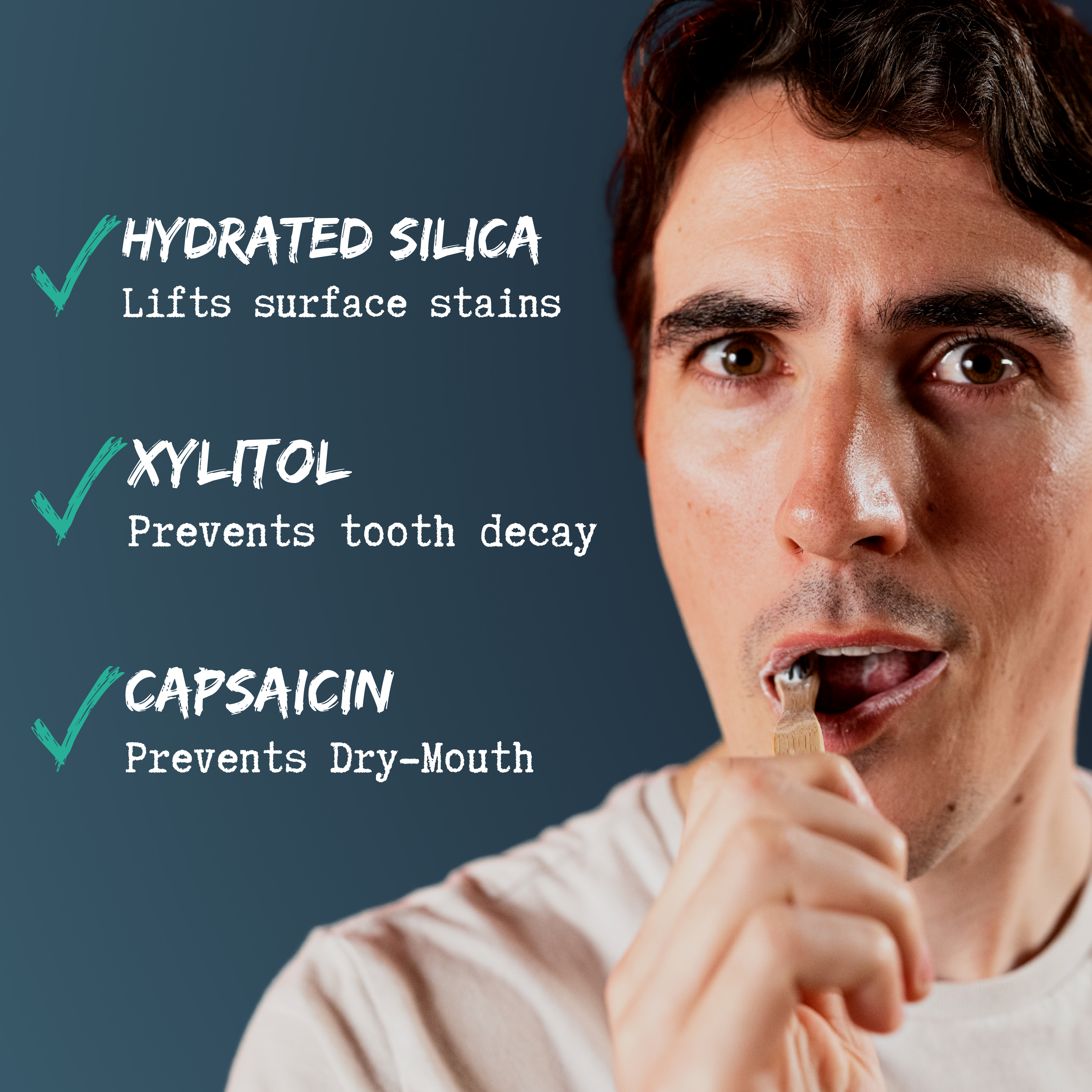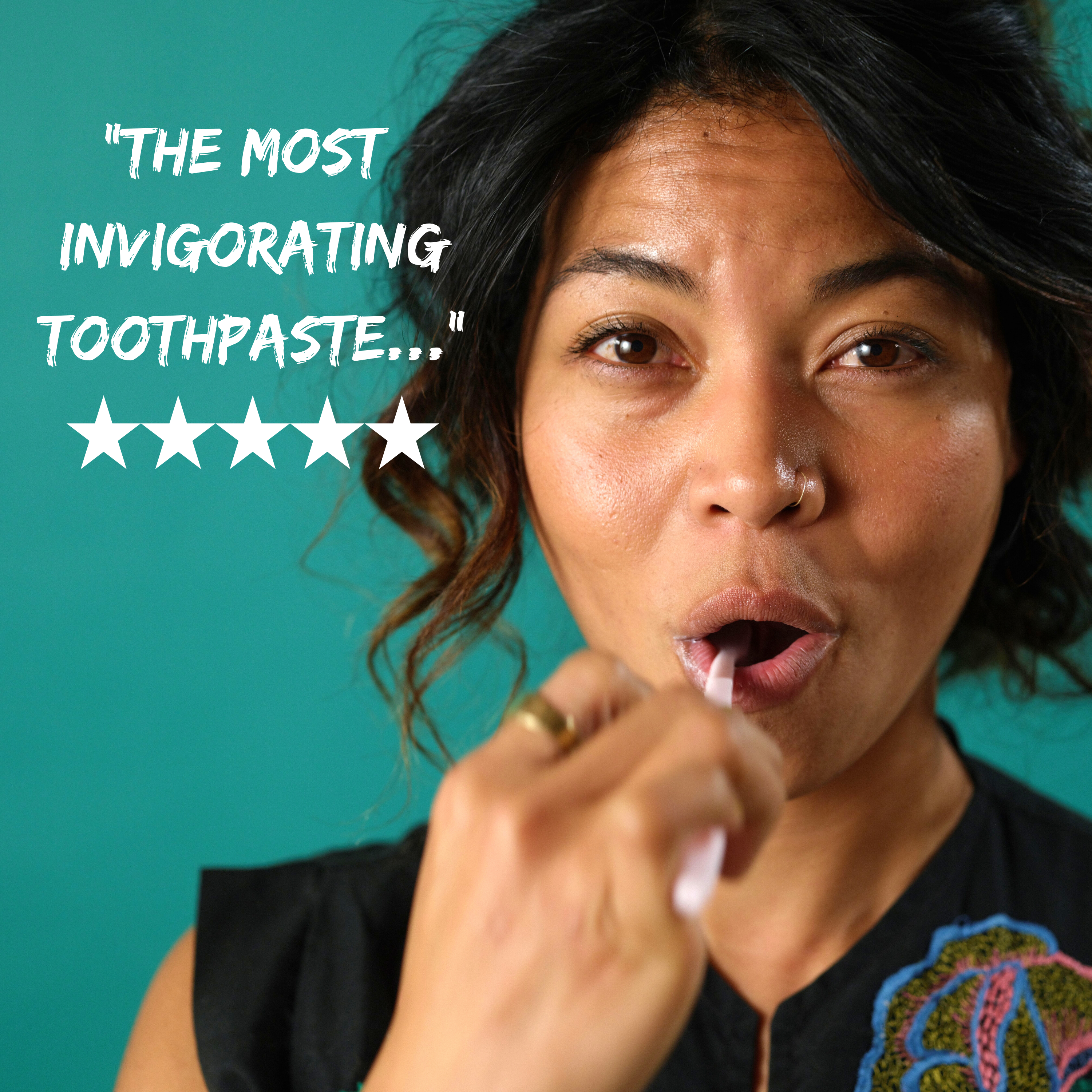 The Original Spicy Toothpaste
A new toothpaste that uses the power of heat and menthol to kill bacteria, leaving you with a healthier, fresher mouth. 
Regular price
Sale price
$13.99 USD
Unit price
per
Sale
Sold out
Share
No More Dry Mouth
Sodium Lauryl Sulfate, or SLS, is a chemical compound found in most "legacy brand" toothpaste. It's used as a surfactant and foaming agent, but SLS can irritate the skin, dry out your mouth and cause canker sores. We want Chilly to cause pain, but not canker sore pain. For that reason, we sub SLS with coco betaine, which is a naturally-derived substance that's sourced from coconut oil.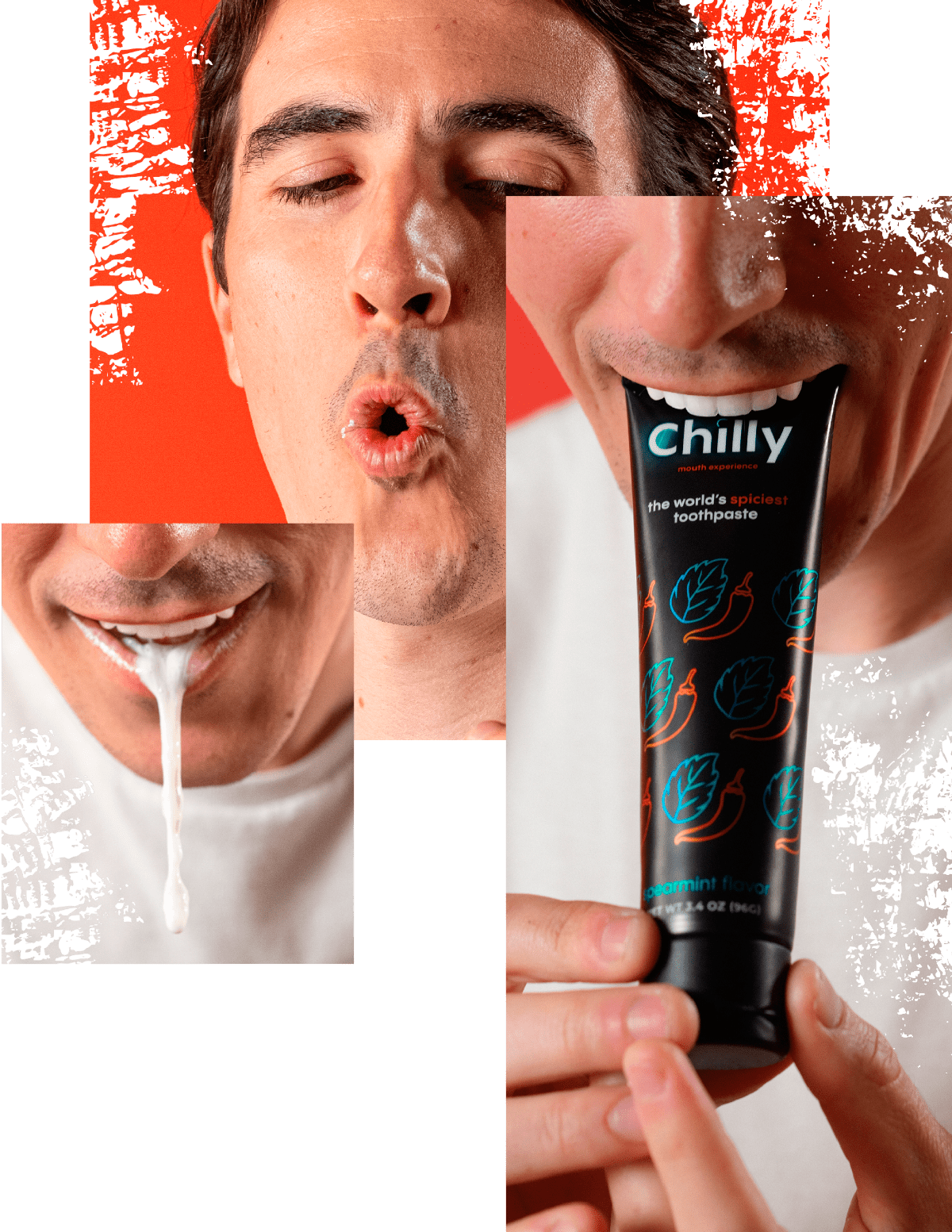 Super white teeth
Two whitening minerals, Calcium Carbonate and Hydrated Silica, go beyond the surface to lift deep stains. So whether your vice is coffee or wine, Chilly will get that smile dialed.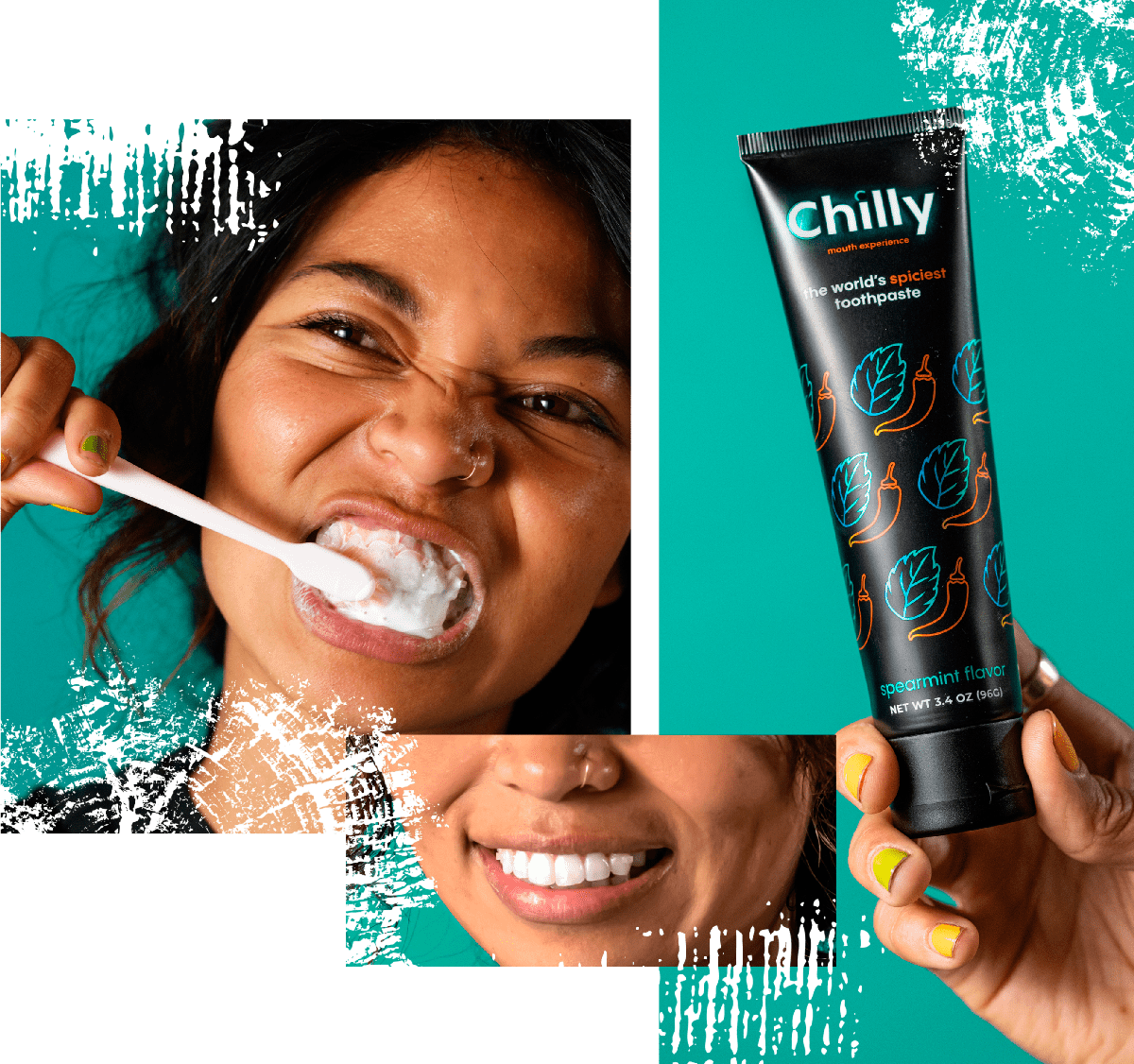 24 hour fresh breath
Bad breath-causing bacteria doesn't jive with the capsaicin in the ghost pepper flakes we use. Xylitol repels cavity-causing bacteria around your cheeks, gums and teeth. And Hydrated Silica polishes your teeth preventing future plaque and bacteria growth.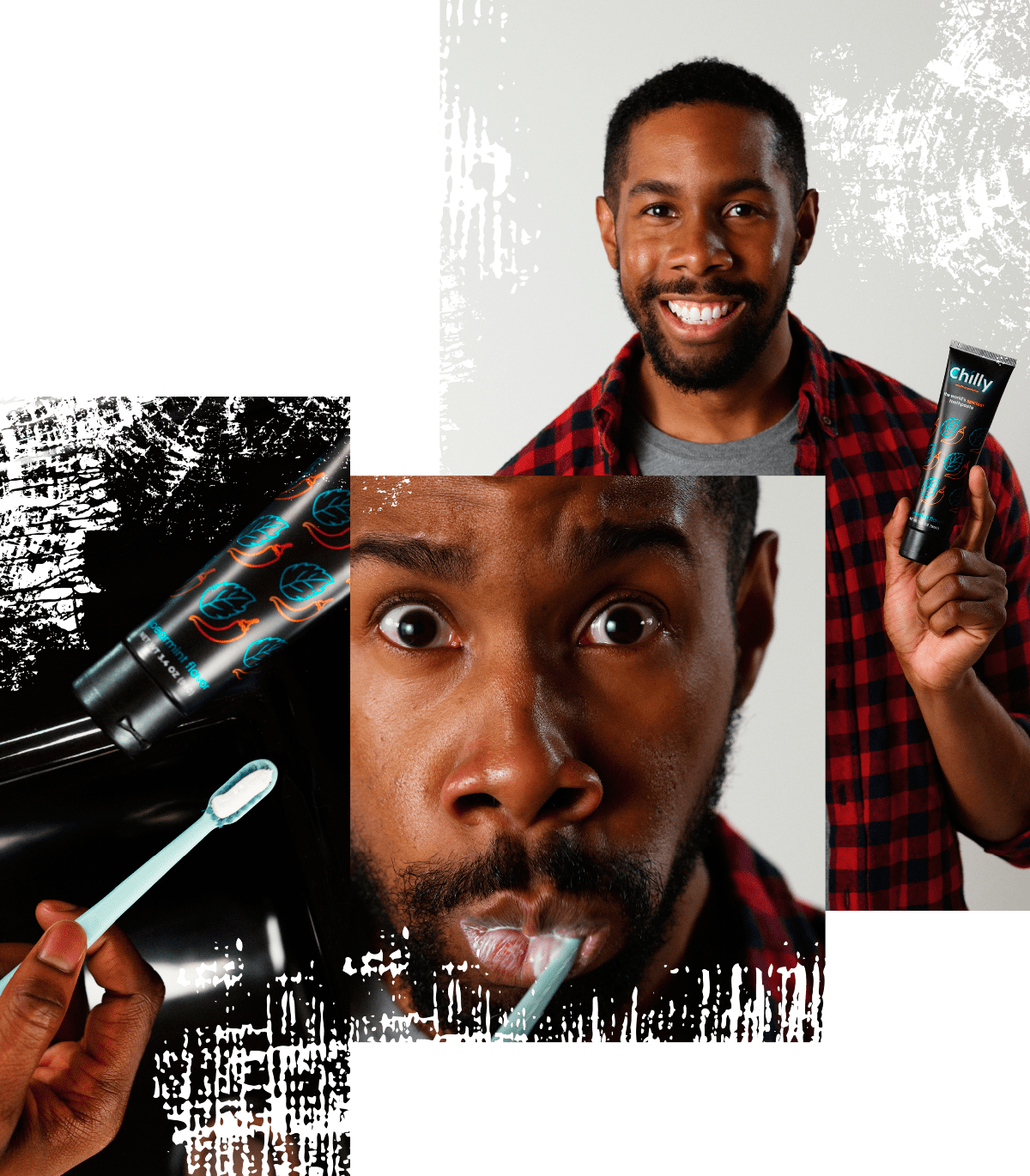 .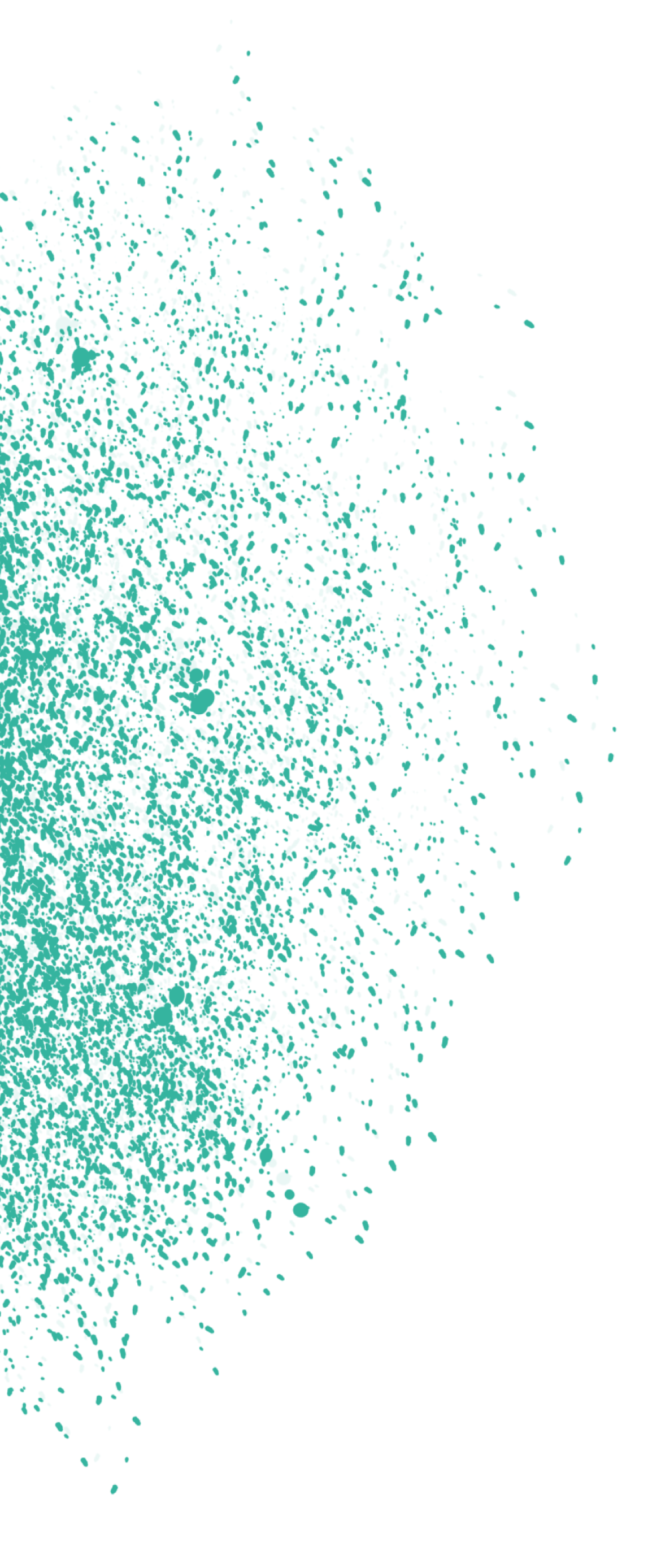 Better Ingredients for a Healthier Mouth
We like to mess around but not when it comes to ingredients. That's why we use high-quality ingredients because a healthy mouth is a building block for a healthy life.


Coco-betaine
Derived from the fatty acids in coconut oil, it helps the toothpaste foam, replacing sodium lauryl sulfate. stevia rebaudiana leaf extract
Sugar-free sweetner that prevents the growth of plaque and cavity causing bacteria.
Zylitol
A sweetener that also inhibits the growth of cavity-causing bacteria.

Calcium Carbonate
Commonly found in rocks and shells, calcium carbonate is an abrasive that scrubs away plaque and polishes your teeth.

Menthol
Naturally derived from mint. Makes you feel like you're at the top of a double black diamond in the Swiss Alps.

capsicum fruit extract
Ghost Pepper flakes to activate your TRP channels.

xanthan gum
A sweetener that also inhibits the growth of cavity-causing bacteria. Spearmint and Peppermint Oil
We use natural spearmint and peppermint oil for a bolder, more robust flavor that you can't get from synthetic flavoring the other brands use.

Hydrated Silica
Silica is the second most abundant minderal in the Earth's crust. It's also used to lift deep stains and polish your teeth. Bacteria and plaque have a hard time sticking to silky smooth teeth. Kind of like waxing a car.
water, hydrated silica (polishes and cleans teeth), glycerin (soothes and moisturizes), sorbitol (humectant), calcium carbonate, xylitol (sweetener), menthol (provides a fresh tingly feeling), stevia rebaudiana leaf extract (cavity free sweetener), sodium methyl cocoyl taurate (cleanser), mentha piperita (Peppermint) oil (freshens breath), titanium dioxide (mineral), sodium benzoate (maintains stability), coco-betaine (cleanser), xantham gum (thickener), mentha viridis (Spearmint) leaf oil (freshens breath), capsicum frutescens fruit extract (pepper flakes to light a fire)
VIEW ALL INGREDIENTS
You're Not Normal, Neither is Chilly
You may be an athlete, musician, surfer, skater, powder shredder, tattoo artist, anarchist, gangster or geek. Whatever you are, you are passionate about pushing the limits. Why not take your daily routine to another level.
Subscribe and Stay Spicy
Subscribing comes with benefits. When you subscribe, you'll get a 15% discount AND free shipping. Plus, you won't find yourself on the toothpaste aisle, staring at a sea of boring, and wondering why you haven't subscribed yet.
SUBSCRIBE AND SAVE
faqs
How spicy is it?
We want Chilly to be your go-to toothpaste, not a one time gag gift. So it's spicy but not over-the-top spicy.
Does it taste like ghost peppers?
No, Chilly has refreshing spearmint and peppermint flavor.
Does Chilly prevent cavities?
The FDA does not allow any natural toothpaste without fluoride to make claims related to preventing or reducing cavities. That being said, cavities are caused by the bacteria in plaque that eat through your enamel and create a cavity. With regular brushing Chilly works to reduce plaque and effectively maintain oral health.
What does natural toothpaste mean?
> Ingredients Sourced and Derived from Nature.
>Free of Artificial Flavors, Artificial Preservatives and Artificial Colors
> Not Tested on Animals (Cruelty Free).
>Gluten free
Can I return it if I don't like it?
We are confident you will like Chilly but if you don't just reach out to support@chillymouth.com within 30 days of delivery and we will give you a full refund.
Where else can I buy Chilly?
Chilly is available for purchase at The Fascination, a leading marketplace to shop and discover DTC brands.